Traveldecorum offers F1 Singapore Grand Prix Packages at Discount Rates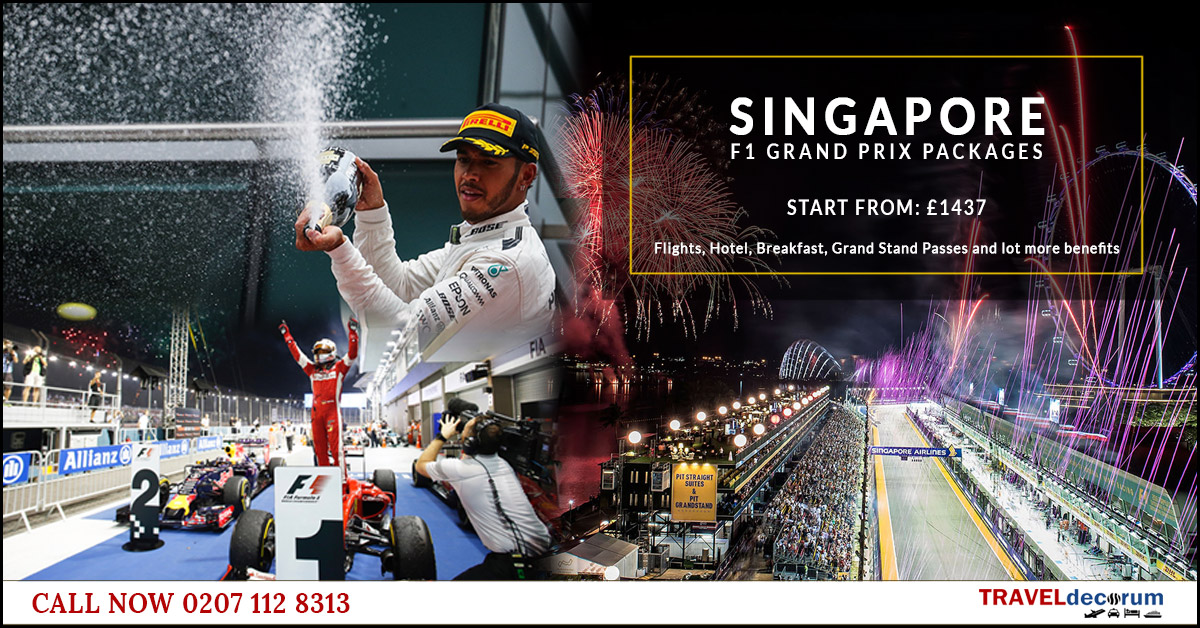 March 25, 2019 ( PR Submission Site ) Traveldecorum announces its luxury filled customised packages for the 2019 Singapore F1 Grand Prix. This time it is bigger and better than ever before! With top range options in hospitality and its equivalent in all other services surrounding the event, it is going to be a grand affair and one to remember.
Singapore, being the first to launch the night F1 race on the testy Marina Bay circuit, has been extremely popular among all travellers. Traveldecorum(https://www.traveldecorum.com) has carefully picked out only the best for all sports enthusiasts coming to witness history being made here. The packages launched are three tier namely- General, Deluxe and Super Deluxe. All packages include return flights, hotel stays, race tickets and post race show tickets. The level of luxury can be custom selected on priority basis.
VIP customisation inclusions available on Traveldecorum packages:
ü  Pick-up and drop at Airport in a luxury car
ü  Business Class Return Tickets

ü  Five Star Hotel Accommodation with Breakfast

ü  Luxury Hospitality Seating at the Race

ü  Tickets to all post Race Gigs

ü  Car Hire of Choice
The Singapore Grand Prix hospitality offered are:
§  Paddock Club


§  Sky Suites


§  Green Room Hospitality


For all queries and details regarding the packages and hospitality you can contact the Travel Decorum team at 0207-112-8313 or check out our website www.traveldecorum.com. The helpline is a 24*7 helpline with experienced professionals to help put together a dream holiday to see the Singapore Grand Prix. The customisation and inclusions can be made online or on call as per the travellers convenience. Enjoy the event without the hassle of having to book at each and every step. Travel Decorum can put together the entire Singapore Grand Prix packages experience for you in one call!
---
Summary
Book your ultimate F1 Singapore Grand Prix Holidays Packages 2019-2020 with Traveldecorum.com. The Packages include great value, elevate hospitality & complete luxury hospitality at best price.
Source
https://www.traveldecorum.com/F1-singapore-grand-prix-packages.aspx
---