Red Sneakers for Oakley 3rd Annual Memorial Soccer Tournament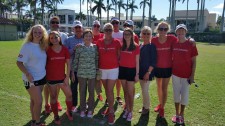 WEST PALM BEACH, Fla. ( PR Submission Site ) Nov 27, 2018:-The Red Sneakers for Oakley nonprofit organization is hosting their 3rd annual soccer tournament at Oxbridge Academy on Dec. 2 from 10 a.m. – 2 p.m. The friendly tournament for kids ages 4-18 is in memory of Oakley Debbs, a local Rosarian Academy student who passed away in 2016. Families are invited to attend and enjoy entertainment, food, friendship, and soccer games by age group.
Red Sneakers for Oakley was established by Robert and Merrill Debbs after the death of their 11-year-old son Oakley due to a fatal allergic reaction to nuts. Oakley loved his red sneakers and the family decided to use them as a powerful symbol for increased education and awareness among communities of people with food allergies, but also people who don't have them. 1 in every 12 kids in the U.S. suffers from a food allergy.
Oakley suffered from both asthma and an allergy to nuts, and the Debbs believe they were ill prepared to recognize the signs of anaphylaxis, the acute multi-organ life-threatening reaction to allergens.
This child of mine, he was a rock star, he was a good, good kid. And always in my heart of hearts, I knew that he would make a difference in his life, I just didn't know it would be after he passed away. So that's a big part of my driving force – the legacy of Oakley," says Merrill Debbs, Oakley's Mom and co-founder of Red Sneakers for Oakley.
Since its establishment, Red Sneakers for Oakley has gained national exposure through supporters wearing red sneakers and has launched a multi-pronged approach to enable its mission and mobilize people to take action. They promote awareness through social media, school programs, community events, allergy sensitive food initiatives, and more.
Sponsors of the soccer tournament include Bolay, the Burns Family, Converse, Enjoy Life, Oxbridge Academy, PDQ, Regency Party Rentals, and Rich's Ice Cream.
Registration is $35 for ages 4-9 and $50 for ages 10-18. Volunteers and donations also make a difference. To sign up, visit www.redsneakers.org/shop or call (561) 714-1390.
MEDIA CONTACT:
Melinda Grenz, Red Sneakers for Oakley 
Soccer@Redsneakers.org or 561-714-1390