Radiofrequency Ablation Devices Market To Generate $11,080.3 Million Revenue by 2030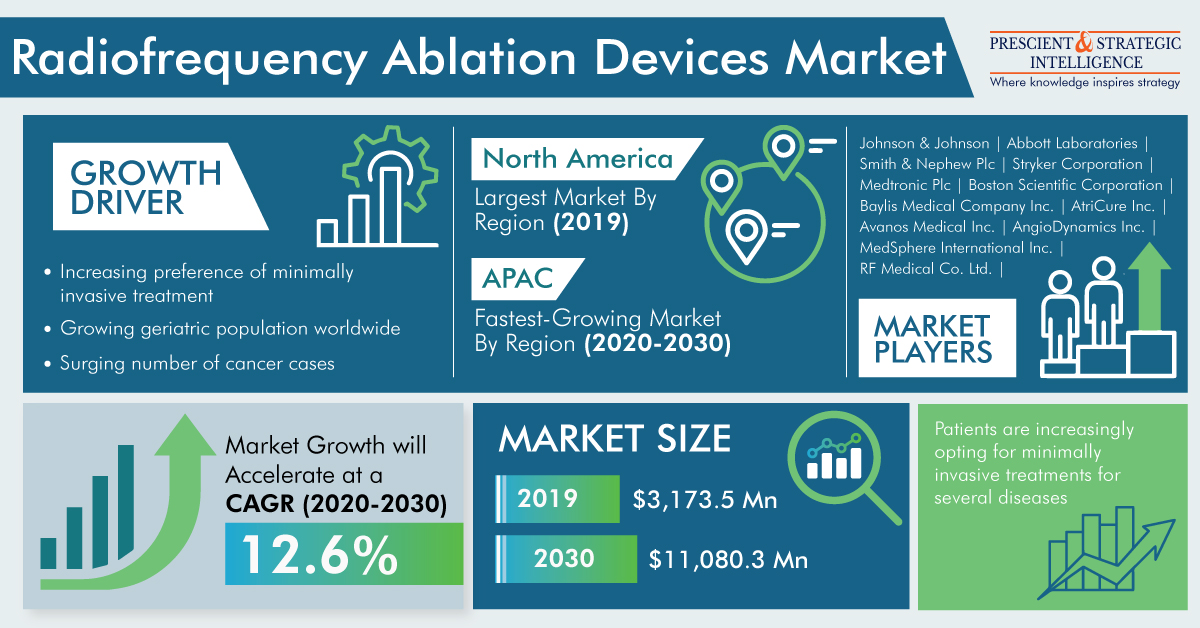 June 24, 2022 ( PR Submission Site ) –
Factors such as the soaring elderly population, surging healthcare expenditure, rising technological advancements, and increasing incidence of chronic illnesses will drive the radiofrequency (RF) ablation devices market at a CAGR of 12.6% during the forecast period (2020–2030). According to P&S Intelligence, the market was valued at $3,173.5 million in 2019, and it is projected to reach $11,080.3 million by 2030. This growth will also be steered by the surging preference for minimally invasive surgical procedures, owing to their high accuracy, fewer scars, and reduced risk of damage to surrounding nerves and tissues.
One of the key growth drivers for the market is the rising inclination of patients toward minimally invasive surgeries, as they help minimize pain, less scarring, and low incidence of infections. For instance, a person suffering from back pain, who is not getting relief from medication or physiotherapy, can undergo RF ablation treatment to remove nerve fibers from the spinal cord. This treatment procedure stops the pain signals from reaching the brain of the patient.
The application segment of the radiofrequency ablation devices market is categorized into cardiology, oncology, pain management, and others. Under this segment, the pain management category is expected to display the fastest growth during the forecast period. This will be due to the mushrooming demand for minimally invasive surgical procedures and the surging incidence of chronic pain, across the world. Additionally, the rising public awareness of RF ablation treatments for pain management will also facilitate the market growth in this category.
Whereas, Asia-Pacific (APAC) market is expected to register the fastest growth in the radiofrequency ablation devices market during the forecast period, due to the soaring geriatric population, who are highly susceptible to chronic disorders. For instance, according to the United Nations Population Fund (UNFPA), one in four people in the region will be over 60 years by 2050. Moreover, hefty investments being made by leading market players in APAC also facilitate market growth.
Therefore, the booming geriatric population and the surging public awareness about minimally invasive surgical procedures will complement the market growth, globally.