PelicanCases.com to Accept Payments in Bitcoin Diamond & 6 Other Cryptocurrencies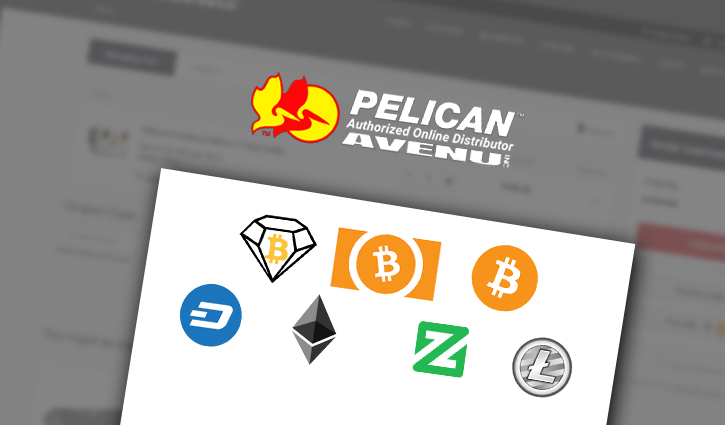 Authorized retailer of Pelican products makes high performance cases and gear accessible around the world.
TEMPE, Ariz. December 15, 2018 ( PR Submission Site ) Customers can now use digital currency to make purchases at PelicanCases.com, as the site's parent company Avenu, LLC has partnered with e-commerce platform Shopping Cart Elite to accept payments in seven cryptocurrencies. PelicanCases.com is an authorized distributor of Pelican products, specializing in fast delivery times, providing quality products, and ensuring competitive pricing. By now accepting cryptocurrencies Bitcoin Diamond (BCD), Bitcoin Cash (BCH), Bitcoin (BTC), Dash (DASH), Ethereum (ETH), Litecoin (LTC) and Zcoin (XZC), PelicanCases.com is giving customers around the world access to fine quality Pelican products.
Founded in 1976, Pelican is best known for their high performance protective cases, designed and manufactured in-house and used by professionals worldwide, in nearly every industry. Pelican is also recognized as a global leader in temperature controlled packaging solutions, advanced portable lighting systems, and outdoor gear. Its products continue to be a trusted source to protect valuable possessions.
Over the past few years, cryptocurrency has emerged as the next evolution of currency, thanks to its convenience, cost-effectiveness and decentralization. It matches the functionality of traditional fiat currency and goes beyond in efficiency, accessibility and security. In 2009, the first cryptocurrency, Bitcoin, was created and hundreds of other digital currencies have since emerged. By December 2017, the market capitalization of all cryptocurrencies reached a staggering $600 billion.
"We're excited to begin accepting cryptocurrency payments. We see the value in decentralized currency and want to make our products accessible to all of our customers," said Steve Mummert, owner of Avenu, LLC. "This will allow us to make our most popular Pelican products available to the global market while paying lower fees and avoiding chargebacks. We are proud that PelicanCases.com is a trusted distributor, and we want to extend our exceptional customer experience to everyone by offering this new payment option."
By paying with cryptocurrency, customers around the world now have unprecedented access to Pelican products with lightning-fast transactions that take just minutes to process. Furthermore, thanks to drastically reduced transaction fees (less than a penny), eliminated currency conversion fees and freedom from chargebacks, PelicanCases.com is able to pass on even more savings to customers buying their next Pelican product.
About PelicanCases.com & Avenu, LLC
Avenu, LLC is an authorized distributor of Pelican products through PelicanCases.com and our storefront. When you shop with us you'll receive the best products, competitive prices, low shipping costs, and experts who are passionate about helping you find what you need quickly and efficiently.
We're here to help you with all of your needs. Just give us a call at 800-967-6492, chat with us online, or send us an email. If you would like to stop in and visit our storefront, we are located right outside of Phoenix in Tempe, Arizona.
About Shopping Cart Elite
Shopping Cart Elite is an enterprise e-commerce platform that provides businesses with various automation tools to run more efficiently. The company prides itself in being a one-stop shop that does not require third-party applications in order to have marketing and SEO tools for business.
Recently, Shopping Cart Elite has developed an advanced e-commerce platform designed specifically for cryptocurrency. This platform has already served as the basis for BCD Bazaar and has been adopted by several merchants, including Marks Jewelers, Mahone's Wallpaper Shop, NewParts, and more.