KI Back At It Has Released his Second Studio Recorded Album "Getting To The Bag"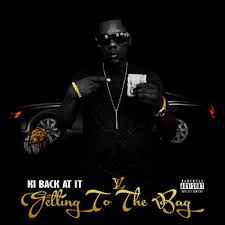 March 13, 2019 ( PR Submission Site ) On August 23rd, 2018, the upcoming rapper from Elizabeth, New Jersey, KI Back At It released his first album titled Destroy & Rebuild NJ. As a self-produced project, the album is doing quite well on the streaming market. The music is quite popular among other countries as well, and also has many interesting tracks that's worth listening and remembering. This year 6 months later, KI Back At It makes another move, releasing another self-produce project 'Getting To The bag' his 2nd studio recorded album.
Getting To The Bag, is well put together with tracks that everyone can vibe to.
KI has been doing this stuff for over 10 years now and has no plans on stopping. With this album, he plans to bring his work to the next level. The amazing thing about this rapper is he made all the melodies for this album inside his head, without writing it down.
"At Jersey We Lit Records, we treat each other as family with trust, and we not only manage we help to develop artists into stars!" – Jersey We Lit Records
With his 10 years plus experiences and knack for music, will also lead him to take a small indie record label to new heights. The label has one purpose, which is to become the way for a new Tri State area artist to chase their goal the right way.
The label specializes in mixing, mastering, as well as songwriting. There is a high expectation that this label will create big attention on the East Coast.
Back to KI's second album, "Getting To The Bag", this album contains 14 songs. And by listening to what those songs sound like, it is easier for all music lovers to say that this is one of the best albums that emerge from a New Jersey indie label.
KI isn't the only one involved on his album. The South Jersey upcoming rapper, "Suge White" is also featured. The rising rapper is involved on one of the songs called "Paper Chase" that has a slow/fast vibe to it.  Overall the album is showing high potential and the music is also for anyone. In short, this is a very enjoyable album coming from the New Jersey rap artist. Getting to The Bag is also available on Spotify, itunes, Tidal and other streaming platforms.
About KI Back At It
KI Back At It is  CEO of Jersey We Lit Records, an indie label that promotes new musician from New artist from Jersey and the Tri State. He has 10 years of experience in producing music, writing song and much more. KI Back At It released the second album, "Getting To The Bag February 23rd, 2019
Follow and stream Getting to The Bag on Spotify today.
Facebook | Instagram | Twitter
For Media Inquiries
Company Name: Jersey We Lit Records
Contact Person: Al
Email: Send Email
Phone: 908-922-2699
Country: United States
---
Summary
KI Back At It released a new album, "Getting To The Bag". The album has 14 great songs that everybody will enjoy.
Source
https://open.spotify.com/artist/2mdIsETL1tfzb35jTY9cn8
---