IGEN GENDISTRANCON 2020 – Panel Discussion on Green VS Brown Power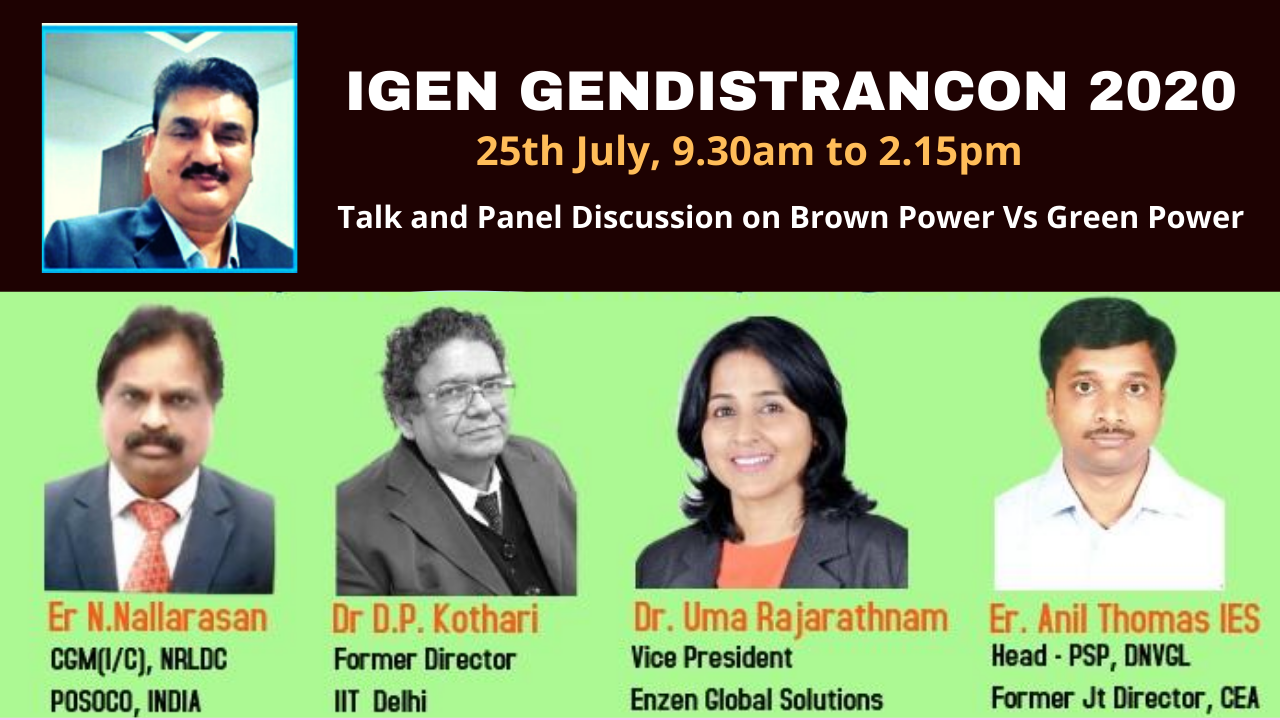 September 14, 2021 ( PR Submission Site ) –
POWER CONFERENCE – IGEN GENDISTRANCON 2020
When the whole world is reeling under pressure to relieve itself from the conventional energy especially the Black fuel, due to Environmental concern and uplifting non-conventional resources like solar, wind and other forms of renewable energy resources. Although, this term is been for discussion with many such utilities and other organization, The Institution of Green Engineers (IGEN), forum which specifically works for Green Technology has taken an initiative to portray and bring out the real-time outcome by connecting such organizations like renewable energy companies, customers & utilities.
First appealing work of the IGEN team is the title, GENTRANSCON'20 exploring and connecting Generation, Transmission and Distribution. Further, drilled down into the grass root information with the topic of discussion Brown vs Green power. As, IGEN is working towards the goal of achieving United Nations Sustainable Development Goals, this program mainly focused on the Goal 7 on clean energy environment to the Nations/World. IGEN also made a point equally important in connecting students, research scholars both from students & Industries, together with Generators from solar, wind & other forms as well the building blocks like Utilities and the industrial connect.
The planning and execution of a conference depends only on the selection of speakers and IGEN too have imprinted it by connecting legends from utility, Generator's, student leaders and from the institutions. Without sponsors or partners the elevation of the program is still doubtful in setting its benchmark, Power Projects, Chennai and CMRIT, Bangalore.
On 24th July 2020, IGEN GENDISTRANCON'20 Pre-meet event was scheduled through virtual media and live in IGEN YouTube IGENSDG plus channel. The pre-meet event, kick started with welcome address delivered by Dr.L.Ramesh, President, and worldwide connectivity done by the Chief Guest Er. Eric Boem, Audivo, Germany & Er. Shankar Kaka Thangaraju, Marketing Officer, Audivo, Germany delivered lecture on the topic CCTV surveillance in HVDC control room.    Dr.J.Balamurugan, Vice President, IGEN moderated the panel discussion titled Brown vs Green Power well participated by Dr.Archana, PSG Tech, Coimbatore and vote of thanks delivered by Dr.Mohanasundaram.
On 25.07.2020, IGEN GENDISTRANCON 2020, started at 9:30 AM with the welcome address by Dr.J.Balamurugan, Vice President, and about IGEN by  Dr.L.Ramesh, President. The objective of  IGEN GENDISTRANCON 2020 was presented by Er. S.Senthilkumar (Organising Secretary IGEN GENDISTRANCON 2020).
Er. B.B. Mehta, Director/SLDC, Odisha Power Transmission Corporation, inaugurated IGEN GENDISTRANCON 2020, released the inaugural video and delivered inaugural address..
He talked about the current scenario of wind and solar development and utilization in India and appreciated the IGEN activities. The following points are highlighted in the event,
As per our Honorable Prime minister of India guidance, to implemented the green, clean power environment to the national based on the International standards
Green power is fully harnessing for creating a green/clean environment.
As per the direction of MNRE/NITIAYOG, implemented the more RE power to plays a major role and harness the wind/solar power
The following eminent speakers are present the views and development about the Brown vs Green Power and it is useful and valuable to the currently pursuing in Graduate, Post Graduate, Research Scholar and industry Professionals.
The program categorized under SDG Goal – 7, the 4 eminent speakers  presented the green/clean power and present power position in India.
Round :1 Presentation by the Speakers
Er.N.Nallarasan, I.E.S., CGM(I/C), NRLDC, POSOCO, INDIA
Talk Title: Indian Power System – Present and Future Challenges
Er. N.Nallarasan discussed about the present and future power scenario. Abundant power is available in the eastern region and deficit power at southern region. He told that, in Indian grid, previously asynchronous and synchronous mode system and facing lot of problems in Southern Region. Now one grid one nation and power transfer problems are solved and there is no transmission constraint in the present system.
Presently integrate the more RE power and create the clean green power to the system and there is no transmission constraints. As per MOP, MNRE, CERC and NITIAYOG had take lot of initiatives for large scale RE integration, viz., Transmission planning, technical standards, flexibility and forecasting, scheduling and imbalances.
  Dr.Uma Rajarathanam, Vice President, Enzen Global Solutions
Talk Title: Demand Side Management & Energy Efficiency
            Dr. Uma Rajarathanam presents his views on,  demand side management and future upcoming technologies in power sector. He told that , Indian power sector ready to face challenges are Maintaining grid stability with intermittent generation, generation scheduling due to forecast errors, high ramping requirements of thermal plants, reducing technical losses and huge infrastructure upgrade costs.
Er.Anil Thomas,I.E.S., Head – PSP, DNVGL, Former Joint Director, CEA, New Delhi
Talk Title: Challenges in Integrating Renewable Energy
Er. Anil Thomas presented the challenges in integrating renewable energy. He addressed the integration points are highly weather dependent larger requirement of balancing resources, challenges in accurate forecasting of renewable generation, high ramp rates of wind & solar, telemetry of renewable generation, dynamic behavior and inertial response
 Round :2  Green Vs Brown – Student Vs Student
           On 25th July, 2020, a debate was organized with the students as participant speakers as IGEN was looking forward to know what is that the new generation expects from us to meet our energy requirements and also how we can have green earth conserved for our next generation with various technological improvements.
Three rounds were conducted in the debate session. Round 1 was a general awareness about green and brown power with topic of discussion being Is green power- Green? Is brown power – Brown?. Round 2 was about -Can we 100% switch over to brown power? Round 3 was panel discussion about impact and importance on society and economy for green power versus brown power. There were two teams who participated in the debate. Team A represented Green Power consisting of  Ms. N. Janashri, ECE-1yr, Vivekananda College of Engineering, Tamilnadu, Ms. A. Rethika, EEE- 3yr, CMRIT, Bangalore,  Mr. Abdul Karim Sam, CSE, Sierra Leone, Africa and Team B represented Brown Power consisting of Ms. Noor Ulfath, EEE – 3yr CMRIT, Bangalore, Mr. Naga Murugan, Mechanical – 3yr, Sriram Engineering College, Tiruvallur Dist, and Mr. Vikram – EEE – 3yr CMRIT, Bangalore. The event moderator was Dr. Ishrat Meera Mirzana, Professor, MJCET, Telangana.
The debate concluded with the remarks that change is the need of the hour, so we need to shift ourselves from Brown power to Green power and it has to be gradual transformation so as to not effect the economy as well as the high energy demand that is being met with brown power currently. The debate was appreciated and well taken by the dignitaries as well as the YouTube participants.
Round :3  My Interesting Journey from Brown to Green
by Dr. Kothari, Former Director, IIT Delhi.
              Dr. Kothari addressed about the journey from brown vs green power and interesting deliver the lecture about research works and presentation. He presented 45 minutes interesting stories he travel through during his life about the challenges in Brown Power and the transformation from Brown to Green and he mentioned that, future is for Power Engineers. He advised the present Higher Secondary students to choose Electrical Engineering in there Engineering career. He also predicted 40% green job market available in the near future.
 Round :4  Special Guest Address by Er.Erich Boehm, CEO, AUDIVO, Germany
Er.Erich Boehm, CEO, AUDIVO, Germany had presents the HVDC importance and HVDC Surveillance in HVDC control room. He introduce the product that will help power engineers to go for surveillance under minum degree temperature for HVDC conditions.
Round :5  Panel iscussion with Experts on Green Vs Brown
IGEN Selva Kumar, initiated the panel discussion as the moderator with Brown Vs Green Power. The chief guest of the event and Eminent Speakers of the event are participated and discuss about the importance of green power integration and facing difficulties in Real time. Five experts from four countries asked the question to the panelist and the respective answer received from the members. Challenging question were addressed and answered by the speakers.         During the event lot questions are raised by the expert from academics, industry and participants for utilization of RE power, future perspective and research oriented.
 Round :6  Concluding Remarks
 Concluding remarks addressed by  IGEN Selvakumar, CEO, Power Projects about all the rounds on various topics.
At present brown power plays a major role for supply the demand requirement and one-third of the renewable power support to the system. To save our environmental purpose, establish more renewable power integration with the system and meet the entire demand by REpower without any technical difficulties. As of now, Indian power system is ready to integrate more REpower into the system.
 Vote of thanks:
Vote of thanks addressed by Er. S.Senthilkumar, Organising Secretary of the event. He thanked everyone for patiently waiting and watched the wonderful event. He dedicated special thanking wishes to the organizers,  who dedicated there time for program execution. The members of organizing team are by Dr.L.Ramesh, Dr.J. Balamurugan, Er. D. Gokul, Er. S.Selvakumar, Dr. Isharat M. Mirzana, Dr.Archana,  Er. P.Krishnagandjhi, Er.Geoffer and Er.Sadeesh.
The conference ended with fruitful outcome of 4.59 hours continuous live stream of lectures and discussions with 10 speakers, 2000 participants with live watch at IGEN SDG plus channel.
Interested, watch our complete conference @ https://youtu.be/FVDrjiQZM30
To all of you, thank you for reading our article and watching our video
Know more about IGEN GENDISTRANCON @ http://theigen.org/IGENGENDISTRANCO/
To know more on our activities www.theigen.org
Thanks & Regards
IGEN Senthilkumar,
Organising Secretary,
IGEN GENDISTRANCON 2020
---
Summary
IGEN GENDISTRANCON 2020 Witnessed with 4 eminent speakers from Power System Operation Corporation Limited, Enzen Global Solutions Pvt Ltd, DNV-GL and IIT Delh. It also experienced the taste of debate by students on topic 'Green Power Vs Brown Power" . The meeting started by 9.30am and end by 2.15pm with 2000 viewers in IGEN SDGplus Channel.
Source
https://youtu.be/FVDrjiQZM30
---