Goodwyn Tea launches Premium Corporate Gifting Range For Diwali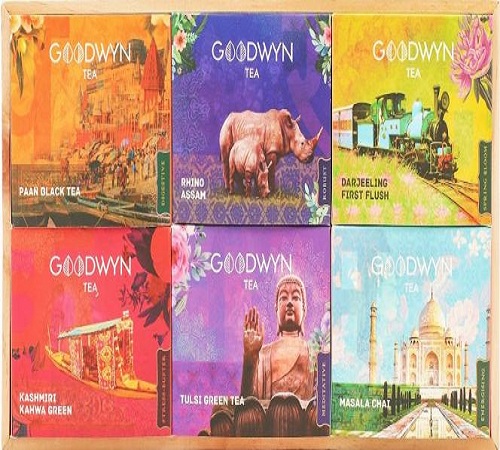 4 October 2019 ( PR Submission Site ) –One of India's leading and most admired premium tea brands in personalized gifting, Goodwyn Tea recently launched its Diwali 2019 Collection. The collection takes on a new bespoke festive approach to the otherwise minimalistic and elegant customized expression in corporate gifting; the result is a perfectly sophisticated, budget friendly and exclusive Diwali Collection that the corporates are digging this season. 
Distinguished yet sensible, 'we make sure that our collection is not just aesthetic but serves a purpose as well, our gifts are mostly eco-friendly and reusable' says Rohan Sirohia, Managing Director, Goodwyn Tea. With his ability to spot quick market insights and a keen understanding of consumer needs, he insists on customizing gifts that'll last the customers or their clients beyond the festive season. Goodwyn Tea being one of the very few producer owned tea brands, premium quality teas remain at the very core of what they do.
From Calming Chamomile, Kalkatta Paan, Lemon Honey Green to Kashmiri Kahwa, Digestive+, La Menta Peppermint, Turmeric Glow—Goodwyn boasts of a tea range beyond clichéd. Carefully packed in choicest chest boxes, decorous scrolls, stylish tea cubes and graceful tins, Goodwyn assures that the gifts never fail to stand out in the crowd. The major attraction lies in the personalization bit though. What good is a mass product in the 21st century anyway, he laughs. It's tedious, but worth it. Personalized Tea Gifts not only lasts ten times longer than other perishable gift items but there's brand recall value to the same, that is the best fitted for corporate gifting purpose.
From Tata Housing, Sun Pharma, Zydus, Bluestone to Merino, Glenmark, Dr. Reddy's, Goodwyn has successfully partnered with almost 300+ corporates for gifting. And Goodwyn's carefully crafted Diwali Collections have always been the major attraction and hit in the past few years. From electroplated Alluring Tea Chest Boxes, Tea Tin Scrolls, Diwali Special Tea Box with logo screen printing to Diwali Signature Box with logo engraving on top, Diwali Tea Book, Elegant Tea Chest and Exclusive Tea Chest with electroplating, Diwali Hamper, Goodwyn prides itself in having a diverse range of Diwali Special Gourmet Gifts products to suit all budgets alongside their bestselling regulars like Health Box and Indian Cubes. From 99/- to 3999/- there is something for every pocket size.
www.goodwyntea.com is pretty much a one stop solution for all corporate gifting needs and most definitely the ones dealing with the brunt of gift hunting this festive season i.e. product managers, purchase managers, corporate agents etc. So, this Diwali blend for the very best of corporate gifting with Goodwyn Tea's distinct Diwali Collection 2019 or just call +91 7604054444 or mail – support@goodwyntea.com for a gifting experience of a kind.
About Goodwyn Tea
Goodwyn Tea want's to inspire the world to blend for good. India's leading producer-owned health tea brand, blending the finest premium teas. Catering to 5+ countries, 300+ 5 star hotels and cafes, Goodwyn Tea prides itself in having delivered 1.2 billion+ cups of teas with over 50 unique health tea blends and crafting the finest tea gifts there is in the market.
---
Summary
Goodwyn Tea recently launched its Diwali 2019 Collection.
---