Global Film Festival Noida Celebrated 11th Edition at NFC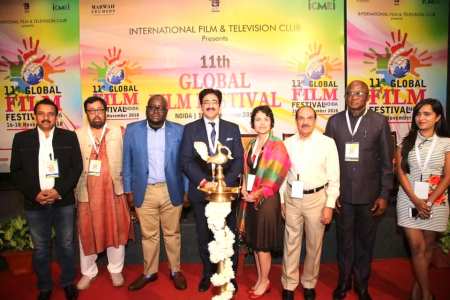 Noida ( PR Submission Site ) Nov 23, 2018: The Great Grand opening of 11th Global Film Festival Noida 2018 was witnessed by hundreds of filmmakers, film lovers and film students from all over India and abroad at Marwah Studios, Noida Film City.
"We have grown immensely and it is evident that Global Film Festival Noida is one of the most vibrant and interesting festivals of the World. The presence of thousands of people from all over the globe is an indication of its popularity," said Dr. Sandeep Marwah President of GFFN in the opening remarks.
"We would like to be part of every event by Marwah Studios and ICMEI. Indo Ghana relations will touch new heights with our presence through ICMEI to promote art and culture. It is always a learning experience once you are in these kinds of International festivals," said H.E. Michael Oquaye High Commissioner of Ghana to India.
"Indo Nigerian Relations have a lot to do with Indian Cinema and especially the role of Marwah. It is a proud moment for us to be part of this prestigious international event," said H.E Maj. Gen. Chris Sunday Eze High Commissioner of Nigeria to India.
"Indo Brazil Film And Cultural Forum, which was launched recently, has given a new energy to our relationship. We have started considering the promotion of our activities through films, art  and culture in association with ICMEI. Global Film Festival is a grand show," added Roberta Lima Cultural Attaché of Embassy of Brazil in India.
"I would have never come to know the magnitude of the festival if I would have not been here. The perfect international arrangements and full of youth and energy has made this festival a very exclusive one in the World. I would love to be part of this every time," said Mehul Kumar writer-producer-director and Senior Vice President of IMPPA- Indian Motion Picture Producers Association.
Renowned actor of more than 15 films  Pritam Kangane said,"what a lovely environment , every corner is decorated , every hall is full and so much to do in three days-that's the real festival I am attending."
"I don't miss the chance to be here at Global Film Festival. GFFN can be compared to any international film festival be the films, and other allied activities," said Popular film director Pankaj Parashar who has visited the festival maximum times.
"It is a honor to be part of this festival and especially when your new film is being released; the importance is converted into prestige. I considered especially this festival to showcase my new film," said Jyant Gilator well known film director.
The dignitaries released a book written by Ashok Tyagi "ABC of Film Making" followed by an exhibition by Suddha Rani Sama. A poster release function of Mahatma Gandhi Forum and release of News bulletin at the lawns added ample glamour to the show.
---
Summary
11th Global Film Festival Noida 2018 Inaugurated at NFC, Sandeep Marwah President of 11th GFFN 2018
---