Flyelva Introduces a Revolutionary Flying Fidget Spinner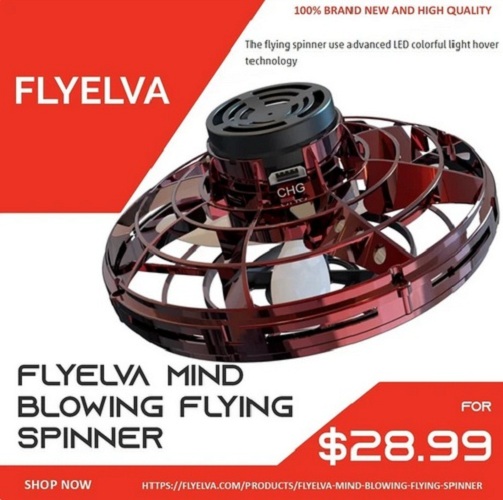 December 17, 2019 (prsubmission): – Flyelva improves the old-fashioned spinner toy into something sophisticated. The company proudly presents the Flying Fidget Spinner.
Fidget Spinner is one of the most popular toys. It is not only a cool toy for kids but also for adults. There is also a significant development in the spinner toy industry. One of the newest things is flying spinner. This is the next generation of spinner toy. Just like the name, the significant difference between the ordinary spinner and flying spinner is that it can fly. The design is similar to small UFO, and it looks cool with the improved features. Kids and adults want to play this toy anywhere they want, including at night in low-light areas. 
The advanced LED light is a powerful industry, and it gives a lot of benefits to a variety of devices, including spinner. The LED light improves the spinner toy into something cool. Kids and adults can play this toy anywhere and anytime, including in the low-light areas. Besides the colorful LED lights, there are three different models, which are rose red, black, and blue. Durability is an important consideration before selecting a product, even for a toy. Parents want to make sure that their kids can play with their toys longer. 
Flying fidget spinner manufacturer understands the importance of creating a durable toy. The great thing about the toy is that it is made of anti-fall and shockproof technology that makes it durable and stronger. Rotation is something that makes the toy interesting to see. To make it more sophisticated and eye-catching, this latest spinner is not only spinning faster but also rotating up to 360 degrees flying rotation. Playing with a rechargeable toy can be boring because of the long recharge time. The manufacturer has enhanced the technology so the toy can be fully recharged for only 15 minutes. 
Flyelva seems to satisfy the users successfully. They said that it is a cute toy and suitable for seven years old kids. The exciting part is the flying technology and the colorful LED lights. It is also lightweight and handy, so users can bring it anywhere easily. The rechargeable technology makes this toy simpler because the users don't have to buy batteries. They just need to use a USB cable and charge the power for a few minutes before using it. This toy is a solution for parents who want to give a special birthday or Christmas gift to their beloved kids. Giving a spinner can be an ordinary thing, but creating a surprise along with flying spinner as a gift will be unforgettable.        
About Flyelva: 
Flyelva is the place for people who want to find a unique and memorable toy for birthday or Christmas gifts. Parents can buy a cool toy known as Flying Fidget Spinner. 
For more information, please visit https://www.flyelva.com.
Contact:
Elva Liu
contact@flyelva.com
776 Manzanita Ave. Pasadena, Pasadena CA 91103, United States.
(800)263-2597
---
Summary
Flyelva improves the old-fashioned spinner toy into something sophisticated. The company proudly presents the Flying Fidget Spinner.
Source
https://www.flyelva.com/
---