Aromatherapy Making Class Will be Held on November 3rd in Halethorpe, MD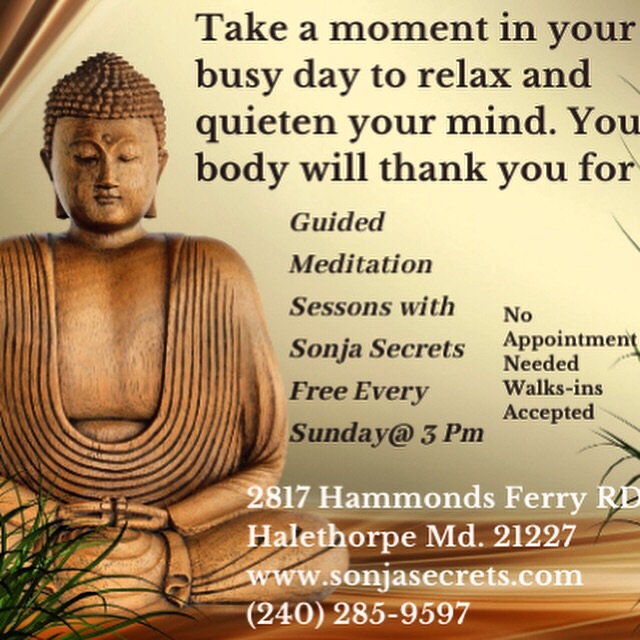 (prsubmissionsite) October 28, 2019 – Sonja Secrets Aromatherapy & Wellness Lounge to conduct Aromatherapy101 make/take Class on Sunday, November 3, 2019
Sonja Secrets Aromatherapy & Wellness Lounge to conduct Aromatherapy101 make/take Class on Sunday, November 3, 2019, 11am-1pm, the class will take place at 2817 Hammonds Ferry Road Halethorpe, Maryland 21227. All participants will be charged a fee of $60.00, all materials included for class. Participants will learn the secrets of how to blend ingredients and make own bath and massage oils, hand and face lotions, or room refreshers and potpourri.  
Maria Talton is the owner Sonja Secrets Aromatherapy & Wellness Lounge in Halethorpe MD. This is the place where people can get custom made aromatherapy products made on the spot while they enjoy relaxing in their beautiful lounge snacking and drinking for free. On the course, she will teach how to make custom made aromatherapy products. The class of aromatherapy making is demystifying and it will teach many ways to add essential oils in life. After the class, the participants will be hoped to gain enough knowledge to start trying some simple blends and courage to experiment by creating own unique blends. Some activities will be conducted on the class, such as learn a little about the plants and the history, learn about what exactly are these things called essential  oils, carrier oils; learn ways to add essential oil and herbs into your life, learn how to dilute and blend, learn the correct way to measure and blend, learn where to buy the oils and supplies, learn about safety and storage issues, and the participants will be given many recipes for beginning concoctions.
Sonja Secrets Aromatherapy & Wellness Lounge is a black owned woman business the first of its kind in Maryland. They provide alternative natural  remedies using herbs and aromatherapy that may reverse or prevent different ailments.
"We are not physicians and do not diagnose anyone. We create all natural remedies  that is based on your individual needs. Anywhere from acne treatments to hair growth, we got you covered", Maria Talton – The owner of Sonja Secrets Aromatherapy & Wellness Lounge

About Sonja Secrets Aromatherapy & Wellness Lounge
Sonja Secrets Aromatherapy & Wellness Lounge by Maria Talton is a new place in Halethorpe, Maryland, where people can get their custom made aromatherapy and herbs products are made directly while they relax in the beautiful lounge enjoying snack and beverage for free. Their services include Reiki Therapy, Chakras Clearing, Body Scrubs, Herbal Consultation, Cleopatra Milk Bath, Meditation Therapy, and Sonja Secret Aztec Facials. Aside from services described above. They are also conducting  Aromatherapy101 make/take Class, which will be held on November 3, 2019. For more information about the class, feel free to visit https://sonjasecrets.com/events-1
Contact: 
Maria Talton
Sonja Secrets Aromatherapy & Wellness Lounge
2817 Hammonds Ferry Road, Halethorpe, Maryland 21227, United States
240-285-9597
---
Summary
Sonja Secrets Aromatherapy & Wellness Lounge to conduct Aromatherapy101 make/take Class on Sunday, November 3, 2019
Source
https://sonjasecrets.com/events-1
---