Affordable Hair Transplant in Turkey at Dr Cinik's Clinic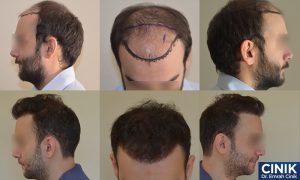 December 24, 2018 ( PR Submission Site ) Dr. Cinik hair Transplant and Plastic Surgery Clinic has become a renowned name for their specialisation in hair transplantation services. Based in Istanbul, Turkey, they have been offering hair transplant services to patients from around the world for more than 15 years. Founded by Dr. Emrah Cinik, the clinic is equipped with highly-experienced medical staff. They place high priority to patient satisfaction and guarantee completely natural results.
All surgeries are performed by experienced doctors who are ISHRS members at their JCI-USA certified International Hospital. Only the latest high-tech equipment is used in the surgeries.
Hair Treatments Offered at The Clinic:
1. Follicular Unit Extraction (FUE): FUE is regarded as the most advanced hair transplant technique. It is a surgical technique that does not require any stitches and does not leave any scars. FUE is a suitable technique for people who have limited hair loss and do not wish to have any scars on their body. The FUE technique has gained popularity as it is a non-invasive procedure which is followed by quick recovery. The transplant sessions are also short and guarantee consistent results. The biggest advantage of this technique is that it does not leave any scars. Also, the patient can resume heavy activities like sports within 2 weeks of the procedure.
2. Direct Hair Transplant (DHI): It is a relatively new method which follows the same extraction process as FUE, with a different implanting process. The implanting is done with the help of an implanting pen called Choi. DHI or Choi method allows the doctors to get a higher density and is suitable only for patients below the age of 40 years. The technique follows a direct implantation process where the individual hair follicles are placed directly into the thinning areas using the implanting pen.
3. Others: Apart from the two main hair transplantation techniques that are used to restore scalp hair, the clinic also offers some other hair transplant services. These are:
Beard Hair Transplant
Hair Transplant Repair
Eyebrow Hair Transplant
Strip Scars Repair
The Packages:
Primary Package – This consists of a single FUE transplant session with the maximum number of grafts possible. Apart from the 7-8-hour transplantation session, the package also includes PRP treatment, the round trip and stay at a 4 or 5-star hotel for two nights. The package costs 2090 €.

Exclusive Package: The exclusive package priced at 2590€ is very similar to the Primary package. This package offers an additional night's stay in the hotel. Under this package, however, Dr. Cinik not only supervises the procedure, rather performs the important steps himself.

DHI Package – The DHI hair transplant package is priced at 2990 €. It includes one DHI session and 2 night's accommodation along with airport and internal transfers and round-trip fare.

To know more about their hair transplant services, please visit their website: https://www.emrahcinik.com/.

About the Founder – Dr. Emrah Cinik

Dr. Emrah Cinik was born in Turkey in 1977. After graduating from Uludag University in 2002, he started his work in Bursa in the field of cosmetics and aesthetics. He founded his own medical aesthetic centre, Dr. Cinik in 2007 and earned a reputation as a reliable and innovative name in the field of medical aesthetics.

Contact:
Halide Edip Adıvar mah. darülaceze cad.
Demirkaya Apt No: 12/1 Şişli, 34290 İstanbul, Turkey
Tel: +90 850 532 4686
---
Summary
Dr. Cinik hair Transplant and Plastic Surgery Clinic has become a renowned name for their specialisation in hair transplantation services.
---