Abu Dhabi Grand Prix 2019 Let the fun begin!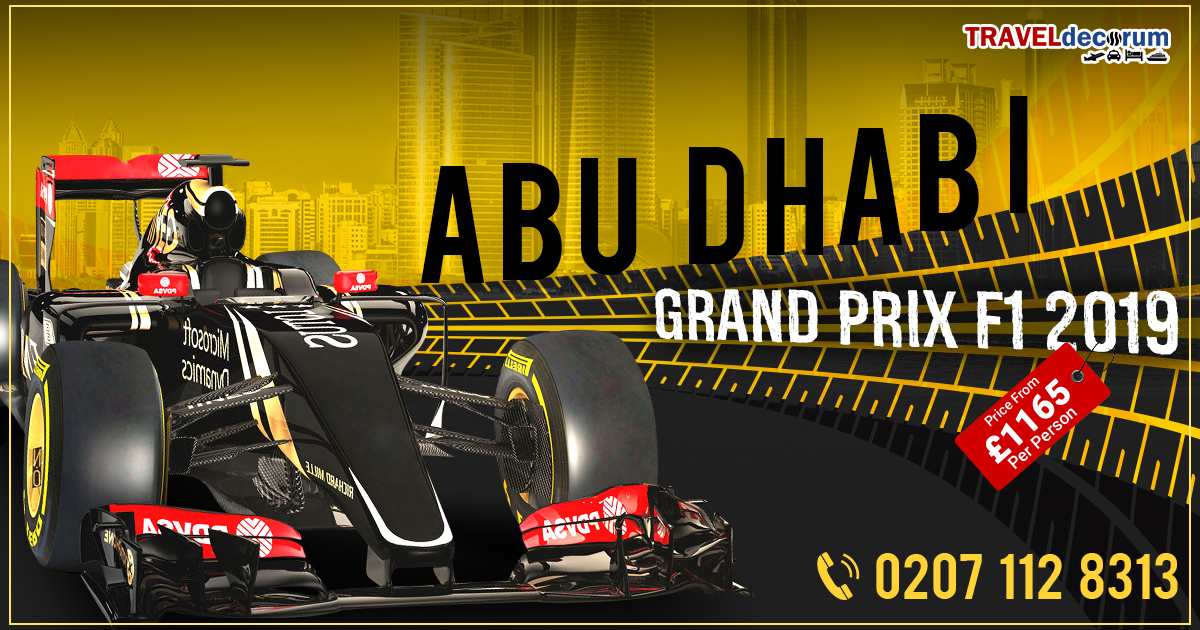 19 August 2019 ( PR Submission Site ) – TravelDecorum announces its luxury Abu Dhabi Grand Prix package deals for all the action this year! These all-inclusive deals take care of all travellers' needs in one unique and customized to taste package. The hospitality is going to be bigger and better this year. With offers and customizations on a large scale, the Grand Prix 2019 will be the event of the year it seems.
A base Abu Dhabi Grand Prix travel package at TravelDecorum includes the following:
1.      Return tickets with Etihad Airways in any class desired (business/ premium economy/ economy)
2.      Hotel accommodation for a four night stay in your choice and preference of hotel (with a choice of meal plan)
3.      Car hire throughout the stay in the car chosen from the list available with or without chauffeur
4.      The Grand Prix race tickets and hospitality options with customized services and entertainment
5.      After race event tickets with choice of VIP or normal seating and booking
6.       No hassle of any kind of bookings, tickets, itinerary, queues or parking
7.      24*7 assistance over a toll free number and travel professionals attending to each call
The duration of the package is from November 29th to December 1st 2019. The prices announced for their base deal called the General package starts from £1165. This goes up to £3795 if one chooses the Super Deluxe package. They have roped in collaborations with Al Dhiyafa hospitality and St. Regis and Fairmont hotels to give the traveller the ultimate lush experience. The live motor sport race seems like a festival in its own might with the entire city celebrating the event with full enthusiasm and vigor. TravelDecorum also plans the itinerary to help explore the city of Abu Dhabi along with the event.
You can call them at 02071128313 or check out the website TravelDecorum for all information and FAQ's. The booking is a one-time affair and all other things are taken care of by your designated sales team member. There is round the clock online assistance also available in the form of a live chat option on the website. For all exclusive and luxe laden deals, you can also subscribe to the website and book your Abu Dhabi Grand Prix hospitality packages that match your level of elegance and standard.
These packages promise to be what one needs to enjoy the Grand Prix Abu Dhabi 2019 fully!
---
Summary
TravelDecorum announces its luxury Abu Dhabi Grand Prix package deals for all the action this year!
Source
https://www.traveldecorum.com/f1-abu-dhabi-grand-prix-packages.aspx
---