AAFT Adjudged As Best Media Institute In India By ASSOCHAM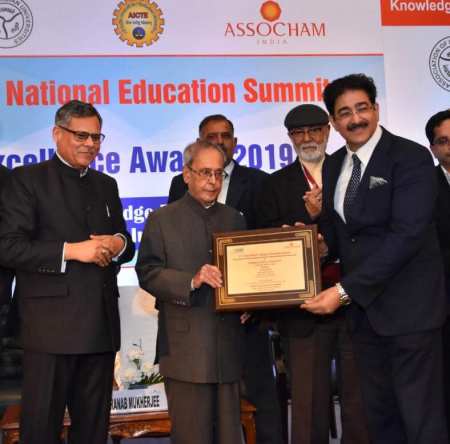 New Delhi: March 11,2019 ( PR Submission Site ) AAFT has been ranked as the best media institute in the Republic of India by the decision committee of well-known chamber ASSOCHAM and has been honored in a grand function at Hotel Le Meridien at New Delhi during National Education Summit.
Bharat Rattan Pranab Mukerjee the former President of India presented the award to Dr. Sandeep Marwah the founder of Asian Education Group in the presence of large number of dignitaries present from all over India and abroad.
AAFT is 26 year old institution and has churned out 15000 media professionals from all the 29 states 7 Union territories of India and 120 countries of the World.
AAFT has given largest number of celebrities to the country. It is the only institution to declare 196 International scholarships to the deserving students.
AAFT is the promoter of 100 social, art & cultural, films & media organizations and has attracted 1.2 million people to Noida Film City. It is the first promoter of Film Tourism in the World.
AAFT conducts 120 events per year to with single aim to promote love, peace and unity through art and culture." We congratulate the whole team of AAFT for their sincere efforts in promoting quality education in media," said Uday Kumar Varma former Secretary Government of India and now Secretary General ASSOCHAM.
"I am proud of my team of management, faculty and advisors including my students who all have proved together that quality wins in long race," said Dr. Sandeep Marwah President AAFT.
---
Summary
AAFT Honored With Best Media Institution Of The Country, Sandeep Marwah President of AAFT
---