1st Choice Mechanical Promotes Total Home Comfort With Complete AC Solutions Matched With 5-Star Service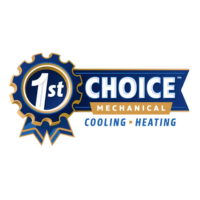 May 23, 2023 ( PR Submission Site ) –
Phoenix, Arizona – Worried that the Phoenix heat will be too much for your air conditioner? 1st Choice Mechanical has area residents covered with their range of cooling services. Regardless of the challenges customers face, the cooling company brings years of experience, professionalism, and dedication to 5-star service to every job.
1st Choice Mechanical has earned recognition as  #1 for HVAC services. The company's world-class technicians know just how to handle frustrating situations.  When the AC goes out in summer, and over 100 degrees, it can be overwhelming for anyone. But with emergency 24/7 service, customers of 1st Choice Mechanical always have a cooling specialist on speed dial.
Those that want the best of the best when it comes to their home comfort needs appreciate 1st Choice Mechanical and its many service offerings. Their skilled technicians perform AC repairs, maintenance, and new installations. These cooling solutions are backed by their 100% customer satisfaction guarantee too. There's never a concern when choosing a Phoenix-based company. Should anything not be right, their team will quickly correct it.
Something the HVAC company recommends to all their customers is bi-annual maintenance. Tune-up for any air conditioning system can make a serious difference in operation cost and potential for breakdowns. Maintenance can be performed on any AC type and is specifically helpful for central AC.
For keeping a home at max comfort, owner, Tim Rhoads, mentions, "For the best value in maintenance, our Comfort Club membership comes with a 20% discount on all repairs, two maintenance visits a year, and priority scheduling." He adds, "With bi-annual maintenance, we ensure the entire cooling system is working properly, and major components have been reviewed, air filter changed, drain line flushed, etc.
Beating the heat is critical for the Phoenix residents' comfort and health. When it comes time to replace an outdated, broken, or inefficient unit, 1st Choice Mechanical should be the first and only phone call to make. They are a Preferred Trane Dealer, with the highest quality equipment available. Superior equipment is critical to outlast the sweltering weather Phoenix throws at homeowners.
Dependability is a huge factor for homeowners when choosing a heating and cooling company. This is something 1st Choice has in spades. Whether a customer needs emergency AC repairs in the middle of the night or a brand new Trane central unit; the company works hard to maintain their customers' home comfort year-round.
If interested in products or services from 1st Choice Mechanical please call (623) 471-1910 or visit their website.