12th International Festival of Cellphone Cinema Inaugurated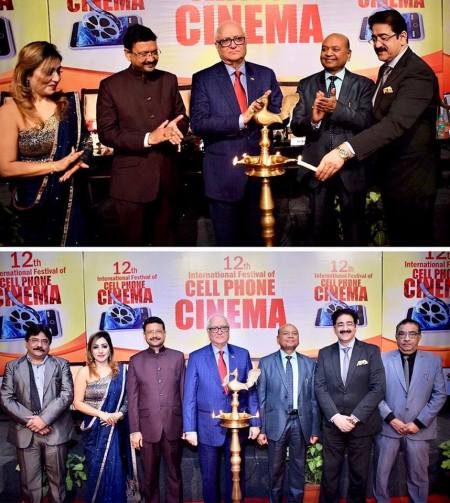 Noida: January 18,2019 ( PR Submission Site ) The most exclusive and the first film festival associated with Cellphone cinema in the World saw its 12th edition at Marwah Studios at Noida Film City.
The formal inauguration of 12th International Festival of Cellphone Cinema took place in Asian Academy of Film And Television by H.E. K.L.Ganju Consul General of Comoros to India with other important dignities like Devendra Pathak Vice Chancellor Oriental University, Prof. N.K. Sinha Vice Chancellor of Himalayan Garwal University on the dice.
"What a unique way to celebrate cinema. This festival is a revolution in the industry, I am sure people will salute Sandeep Marwah for his most innovative ideas and style of execution," said K.L.Ganju while lighting the ceremonial lamp.
"Dr. Sandeep Marwah has been always first and look for ideas out of the box. His status of being Father Of Cellphone Cinema will remain for centuries to come," added Devendra Pathak Vice Chancellor Oriental University.
"Everlasting energy and non stop formation of ideas Dr. Sandeep Marwah   is chairing more than 100 organizations, still he does not forget to do his job of reminding people of their rights and duties. His involvement with cellphone is Like a love affair," referred Prof. N.K.Sinha Vice Chancellor Himalayan University.
Young filmmakers from all over India and abroad attended the event.Ashok Tyagi Film Maker, Seema Gumer Director Star Buzz Events and Yogesh Mishra Dean AAFT were present there.
International Chamber of Media And Entertainment Industry supports the event along with many other International organizations associated with Marwah Studios.
Entries in four categories are invited from all over the World and large number of awards upto two hundred thousand are goinf to be announced on 12th February, 2019. The last date of submission is 5th February, 2019. Website is www.ifcpc.com.
---
Summary
12th IFCPC Inaugurated at Noida, Dr. Sandeep Marwah President of 12th International Festival of Cellphone Cinema
---