December 11, 2018 ( PR Submission Site ) Entertainment industry expert Yolanda Nollie has now released a new book and is set to hold a workshop to help young entertainment industry professionals. She aims to spread her knowledge and educate people on social media branding.
With extensive professional experience and commendable career achievements to her name, entertainment connector and entrepreneur Yolanda Nollie is an authority on the subject of social media branding. She has released a breakthrough new book titled 'How to Profit in Entertainment: Social Media Guide'. Now available on Amazon, the book has received positive client testimonies and has even garnered critical acclaim.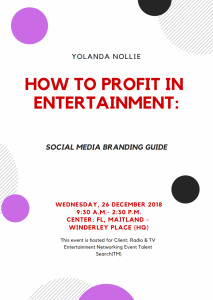 The book is full of vital branding tips that Yolanda has learned throughout her extensive career and has also utilized in her own professional journey. She is currently the CEO of Radio & TV Entertainment Networking Event Talent Search LLC and collaborates regularly with industry experts. She is also highly proactive about educating young talented people about the trials and tribulations of the entertainment industry.
She is set to host a workshop on Thursday, December 26 where she will speak with the audience about her new book and talk about various aspects of the entertainment industry. The workshop will feature Yolanda, along with several other entertainment industry speakers who will engage with the audience and offer great insight.
A spokesperson for Yolanda Nollie made an official statement "Yolanda Nollie is a highly experienced woman who has dealt with a lot of people to get to the position of an entertainment industry CEO. She is highly coveted for her skill and aptitude and she is now giving people an insider look at the entertainment industry through her latest book and her upcoming workshop."
The spokesperson further added "Yolanda is enthusiastic about helping talented young people and empowering them. She teaches them how to deal with producers and entertainment companies while making a name for themselves by using social media branding."
Tickets for the workshop are now on sale at Eventribe.com. VIP reserved tickets cost $20 and early bird tickets cost $10. The workshop will be live streamed through face time with audio replay, which will be given as a free gift to VIP attendees and put on sale for Amazon.com.
More info about Yolanda Nollie, her new book and her workshop can be seen at http://www.radioandtventertainmentnets.com
Workshop Details:
Date: Thu, December 26, 2018
Time: 9:30 AM – 12:30 PM EST
Location: Maitland Winderly Place, 555 Winderly Place, Suite 300, Maitland, FL 32751, United States