Sikka Coin ICO 2nd Phase sale starting from Jun 1, 2022 to Jun 30, 2022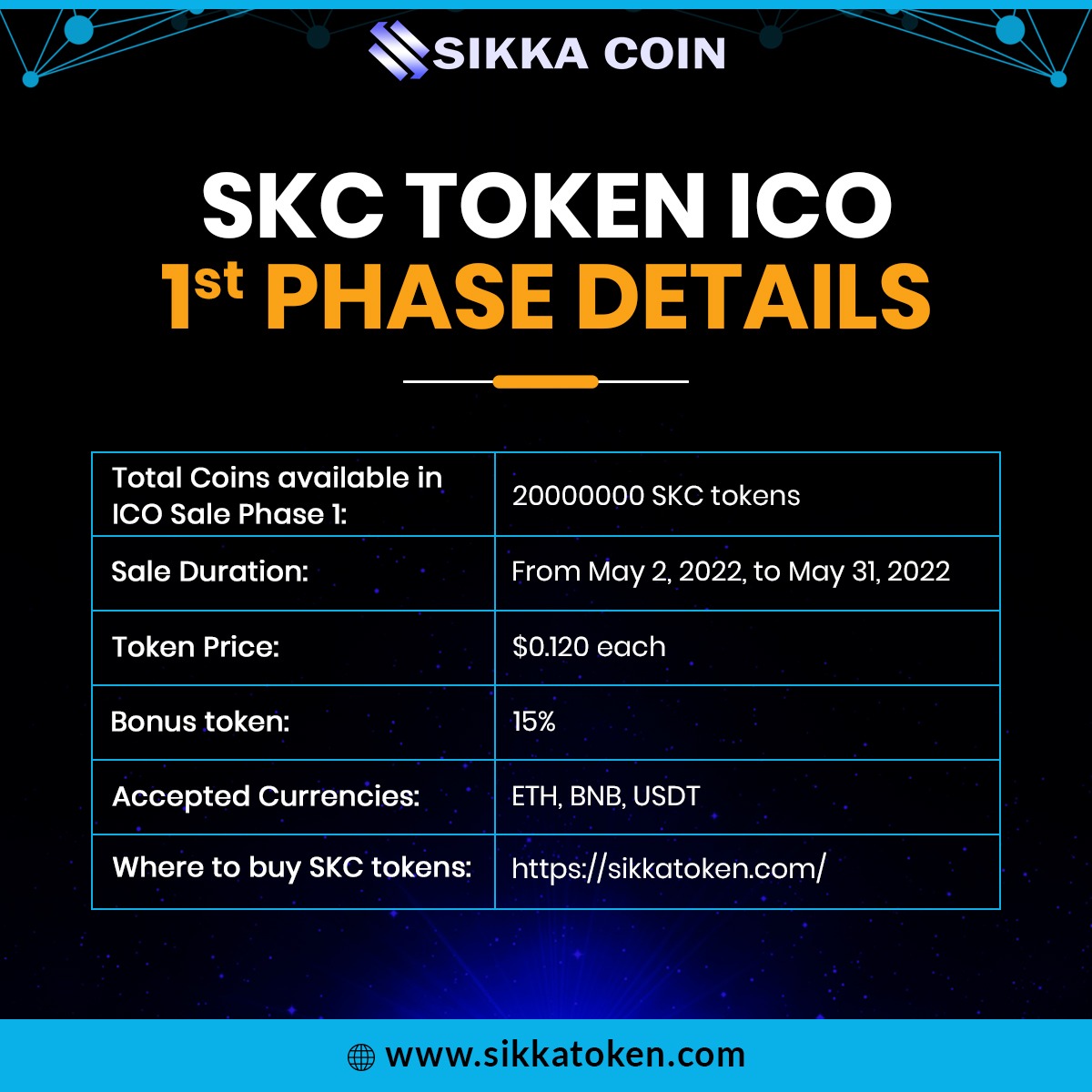 June 2, 2022 ( PR Submission Site ) –
Sikka Coin is a revolutionary project that is making cryptocurrency transactions and trading easier. The Sikka ecosystem is a combination of SikkaPe exchange, Sikka Wallet and Sikka coin (SKC).
The company is organizing Sikka Coin token sales in a total of five rounds. The private sale will start on April 16, 2022, followed by Pre-Sale, ICO round 1, ICO round 2, and ICO round 3. Token price of Sikka coin will be raised in every round. So the earlier you buy the more profit you will make.
In the ICO 2nd Phase sale, a total of 20000000 SKC tokens with a 10% Bonus will be available to buy at a price of $0.140 each. The token sale starts on 01 June 2022 and it will end on 30 June 2022. In this sale round, you can purchase as many SKC tokens as you want by using Ethereum (ETH), Binance (BNB), or Tether (USDT) cryptocurrencies.
It is also very easy to participate and buy SKC tokens in this ICO 2nd Phase sale round. First, install MetaMask, then transfer enough BNB, ETH, or USDT to Trust Wallet or MetaMask Wallet. Then, if using Trust Wallet or MetaMask, click on the app icon, enter Sikkatoken in the URL box and log in to your account. Then select Binance for BNB, Tether for USDT, or Ethereum for ETH. Then, enter the desired amount of Coin tokens you wish to buy and click 'Continue', finally, confirming the transaction.
There are various rewards and offers you can grab by participating as early as possible. Sikka Coin works on Binance Smart Chain (BSC) and the token is made with the BEP-20 protocol. Some of the unique features this project offers are Proof of staked authority, Environmentally Friendly, Independent blockchain, Ethereum compatibility, Native Interoperability, Validator quorum, Support staking, and community-based governance.
Sikka coin is on a mission to make the selling, buying, and trading of cryptocurrencies easier, safer, and profitable for everyone. With an ecosystem that features a robust crypto exchange, a multifunctional wallet, and a utility token, the project is making sure that people get what they come for and also in the most efficient way.
The ICO 2nd Phase sale is starting on June 1, 2022. People looking for some great projects to invest in can visit the official website, go through the whitepaper and invest by following the steps described above.
About Sikka Coin
SIKKA COIN (SKC) is a utility token and is backed by our very own cryptocurrency exchange sikkape.com
SKC, a utility token backed by SikkaPe, forms the backbone of the SikkaPe ecosystem. We launched SKC tokens to involve our community in helping us build out SikkaPe, and reward them accordingly for contributing to our success. This helps us stay true to the ethos of cryptocurrency and blockchain – to share the rewards of SikkaPe's success with our early adopters and supporters.
Contact info
emailid: support@sikkatoken.com Facebook: https://www.facebook.com/sikkatoken/ Twitter: https://twitter.com/SikkaToken Instagram: https://www.instagram.com/sikkatoken/ Pinterest: https://www.pinterest.com/sikkatoken/ Reddit: https://www.reddit.com/user/sikkatoken Telegram; https://t.me/sikkatokenofficial
---
Summary
Sikka Coin ICO 2nd Phase sale starting from Jun 1, 2022 to Jun 30, 2022
---