RXIL and UPICO announces corporate partnership to service MSME vendors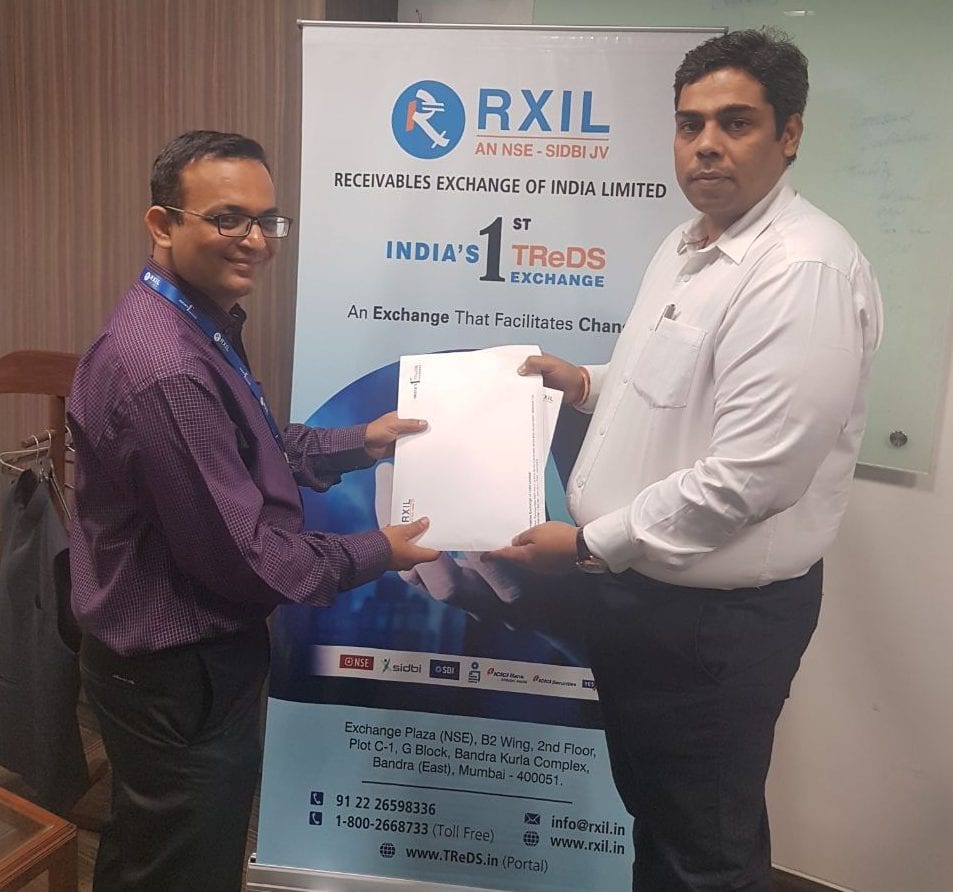 UP Industrial Consultants Limited selected as an official RXIL Partner
Mumbai, India – May 14, 2018  – UP Industrial Consultants Limited, or UPICO, a government of Uttar Pradesh undertaking, has been selected by RXIL to be a Business Consultant for marketing and rolling out their innovative marketplace for invoice discounting across Uttar Pradesh and other states.    Receivables Exchange of India Ltd. (RXIL) is a joint venture promoted by Small Industries Development Bank of India (SIDBI), the apex financial institution for promotion and financing of MSMEs in India, and the National Stock Exchange of India Limited (NSE), the premier stock exchange in India.   RXIL operates the Trade Receivables Discounting System (TReDS) platform.
RXIL is the first entity to receive approval from the Reserve Bank of India (RBI) to launch India's First TReDS Exchange.  RXIL launched its tech-enabled marketplace that brings together both public and private buyers and their vendors on the same platform.  The TReDS Exchange enables discounting of trade receivables of MSME sellers against large corporate buyers and government departments and PSUs, through an auction mechanism, to ensure prompt realization of such receivables at competitive market rates.
UPICO has a long and successful history of both training and developing entrepreneurs with a particular focus on MSMEs and UPICO aims to leverage their network of relationships both in the government and private sectors to facilitate and serve MSMEs to benefit from access to the TReDS platform.   As part of their initiative, UPICO plans on holding seminars and events in collaboration with District Industry Commissioners to popularize and recruit MSME vendors to get registered on TReDS to take advantage of these innovative financing options now available via RXIL.
Mr. Kashinath Katakdhond, CEO of RXIL, said "Our goal is to make available access to TReDS Exchange across India so that maximum benefit can accrue to MSMEs as it will increase their ability to get financing at lower cost and ensure timely payments through discounting.  The partnership with UPICO gives us the ability to reach these MSMEs located across Central and North Indian states more effectively"
Mr. Pravin Singh, Managing Director of UPICO said, "We are excited about this partnership and to bring new and innovative financing options to the thousands of MSMEs that we serve.   Having a trusted partner like RXIL allows us to offer an integrated approach to all vendors looking for agility and scalability in their funding options as they grow."
ABOUT RXIL and UPICO
Receivables Exchange of India (RXIL) is an integrated provider of financing platform for supporting the growth and development of Micro, Small and Medium Enterprises (MSMEs) for their inclusive, sustainable, economic and social development.  More information at rxil.in
UP Industrial Consultants Limited (UPICO) is a leading consulting and MSME training partner that caters to various government departments and PSUs with a particular focus on MSMEs and industrial growth.  UPICO recently launched a new business focused on financial and digital inclusion called UFS DIGITAL LIMITED (ufsdigital.com).  More information at upico.in
Press enquiries, please contact:
Sameer Raut
admin@upico.in
+91-995.624.2385
---
RXIL and UPICO announces corporate partnership to service MSME vendors
Summary
UPICO and RXIL announce a collaboration agreement to launch innovative financing products for MSMEs across India.
---