Incredible Cameras Launched by FLIR – Get them exclusively at Omni Controls Inc.!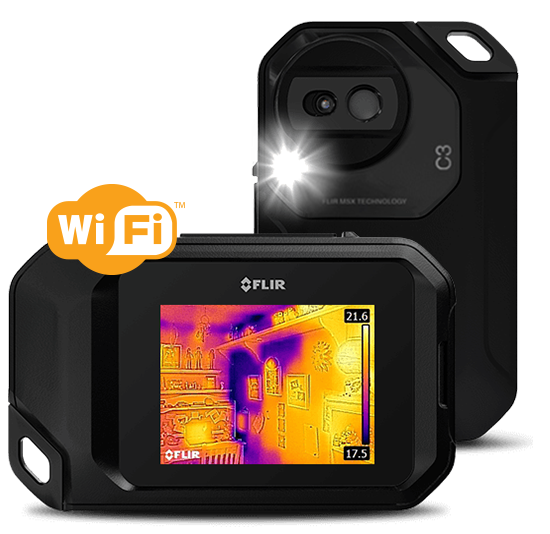 May 14, 2019  ( PR Submission Site ) FLIR Systems, Inc. is well-known for its fabulous designs. Their products aim to develop technologies that enhance perception awareness. The amazing modern and unique sensing solutions are provided by newly launched products FLIR C3 Compact Thermal Camera with Wi-Fi, FLIR E5-XT Infrared Camera, FLIR E5 WiFi Infrared Camera, FLIR C3 Compact Thermal Camera that comprehends visible-light imaging, video and analytics, measurement and diagnostic and advanced threat detection systems.
A clear insight into these products is as follows:
The FLIR C3 Compact Thermal Camera with Wi-Fi is a perfect camera designed specifically for building inspections, facilities maintenance, HVAC, or electrical repair. One needn't worry about carrying it as it's a slim fit camera that can be kept in your pocket and you are good to go anywhere. The touch-screen does some wonderful work to find hidden problems, documenting repairs, and sharing images over Wi-Fi. An easy application where one can share images through wi-fi as one can frame reports too. It includes some additional professional measurement features wherein one can edit as well as analyze measurements.
The next product is launched is FLIR E5-XT Infrared Camera is another great tool that can diagnose electrical, mechanical and building problems. The camera has automated settings along with control edits. The best part is it can withstand tough work environment. One can grab this one as its lightweight and well-balanced. The FLIR E5 WiFi Infrared Camera comes with unique MSX feature that adds on key details from the onboard visible light camera to the entire infrared image in real time. The result: an all-in-one, undiluted thermal picture with visible light features that lets you instantly recognize where the problematic heat pattern is. MSX is real time so you can see its results immediately in the camera's LCD.
FLIR C3 Compact Thermal Camera – This professional thermal imaging camera fits in your pocket and is full of features to help you quickly find hidden problems, document repairs. A touch screen, streaming video, WiFi and the ability to measure any point between -10 to 150°C are some more beneficial features that make it amazing equipment to buy.
---
Incredible Cameras Launched by FLIR – Get them exclusively at Omni Controls Inc.!
Summary
Synopsis - FLIR is a well-verified brand that offers applications with enhanced features. These are much beneficial for and that serves a number of people in government, defense, industrial, and commercial markets. All these wonderful product launches have diverse features which can work wonders for related projects. You can grab these thermal cameras exclusively from Omni Controls Inc. an authentic dealer of FLIR products.
Source
https://www.omnicontrols.com/product/flir-c3-compact-thermal-camera-with-wi-fi/
---